It's not even February yet and love is in the air around the blogosphere. Feeling a little cabin fever, are we people? A few of these posts caught my eye and are worth a mention here.

*sigh*

A week or so ago the wicked funny
Sarah Rees Brennan
put together a post entitled
The Best Couples in Books Ever!
Lol. In this post she outlines the six literary couples she deems the best ever, given the rules that the series they're in (if there is one) is finished and that at the end of it they are, in fact, together. I've read four of the six books/series and would put two of those four on my list,
no question
. Take a look at
the list
and see if you can guess which two! And while you're there, make sure you scroll down to the hysterical summaries of each relationship Sarah kindly put together. Though beware spoilers if you haven't read the books yet. I'm still breaking into giggles over them days later.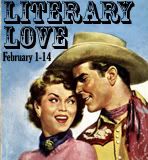 Next, my friend Michelle over at
See Michelle Read
is hosting a
Literary Love event
the first two weeks in February. She'll be spotlighting some of the most memorable literary couples as well as opening up the polls so you can vote on your favorites. There will also be guest posts, a giveaway, and all kinds of fun stuff going on. Make sure to drop by and weigh in!
Lastly, the always entertaining Adele over at
Persnickety Snark
is talking
Perfect Kisses
. Of the YA TV variety. She's got three videos of how the perfect kiss looks to her and you should really go give them a view. I'm so very much with her on the Veronica and Logan entry. With the barricaded bathroom hotness. And the Logan...
And if I were to add one of my own favorites to the list it would likely be this one:

And, even though it's not TV, this one:

Because of the awesome.